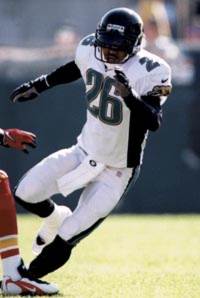 Kevin in action with the Jacksonville Jaguars.



Kevin speeking at Chardon, Ohio Clinic.


BFS All-American Ben Chuha a 4.0 student is doing a pec stretch.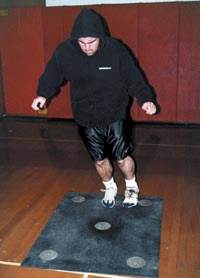 Starting sophomore NG Luke Chuha on the Dot Drill. His best time is 48 seconds.


Ben Chuha doing the Parallel Squat has done over 500 lbs.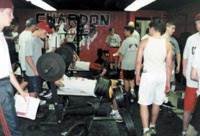 Chardon High School began the Speed Clinic day with a workout at 6:30 am.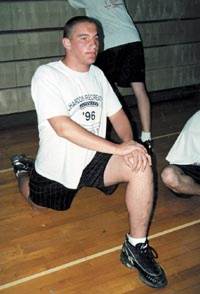 Freshman Adam Bihana, a 3 sport athlete with a 4.0 GPA, doing the Hip Flexor stretch.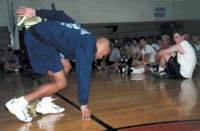 Kevin Devine shows is explosive power start. He also shows proper hand placement for the start. Both keys to developing his quick 4.2 forty speed.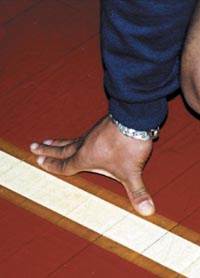 Hand placement for sprint start.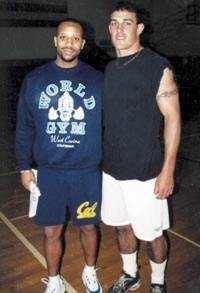 Kevin with Mitch Hewitt: 1st team BFS All-American, Ohio Division II Defensive Player of the Year, 1944 yds rushing,, 288 points, 38 TD's, 142 tackles, runner up to "Mr. Ohio Football" given to the state's best football player.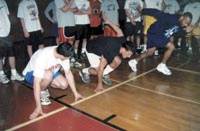 BFS All-Americans Ben Chuha and Mitch Hewitt working on the "start" with Kevin. A tremendous amount of talent, skill and intelligence on one line.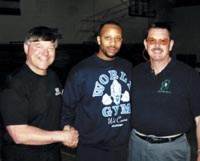 BFS President Greg Shepard with Kevin Devine and highly successful Chardon High Head Football Coach and BFS Clinician Bob Doyle.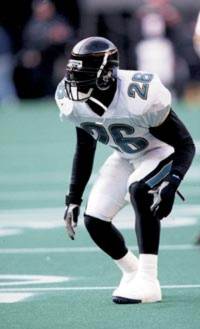 "I want to be the first NFL player to break the 4.0 forty barrier." Kevin Devine, Pro Footballs Fastest Player