STANDARDS FOR WOMEN
BFS has published standards for women for over ten years. These standards are now being achieved and recognized by others.

By Greg Shepard
Published: Fall 1999
---
Two well known strength coaches have made their findings public. David Oliver, a former NBA strength coach, is now working as the strength and conditioning coach for the U.S. Women's Soccer Team. Meg (Ritchie) Stone, formerly the head strength coach at the University of Arizona, worked with U.S.A. Softball team in 1998 and instituted a three-month training camp. The results are in-line with the BFS Performance Standards.
David Oliver works with 20 players who he calls "Superwomen." Oliver stated in USA Today, "I've never seen a team of athletes as fit, strong or as explosive." They spend three days a week on plyometrics, jump training, explosive work and quickness oriented drills, in addition to their practices.
The USA Today interview quoted Oliver, "Soccer is getting so big, we are drawing a lot of female athletes. So we get the best ones. But, this group is more than that. They have a hard work ethic and good focus." Coach Oliver wants high school and college coaches to have a gauge of what it takes to be the best of the best. The U.S. Soccer Team made a world wide statement that they are the best of the best.
There were eight North Carolina women on the U.S. World Championship Soccer Team. North Carolina has won the NCAA Championship every year except 1985, 95 and 98. They dominate! Greg Gatz, the Tar Heels Soccer Strength Coach, says "We're like a machine now." Coach Gatz has been at North Carolina four years and uses almost all free weights with the Bench, Power Clean and Squats as their core lifts. They also stretch hard and do speed and plyometric jump training.
Meg Stone's U.S.A. Softball Team's three month training camp consisted of basic mainstream athletic exercises: Snatches, Cleans, Squats, Push Presses and Straight Leg Dead Lifts. These lifts are used and endorsed by BFS.
Coach Stone told the team and coaches up front just what they should be doing to be the best. "You better do a Power Snatch to develop the shoulders in a multi-joint situation. If you do a single joint exercise, you will end up with an imbalance."
The softball team trained three days per week during the off-season and twice per week during the in-season. The exercises were basic strength and explosive power lifts featuring multi-joint movements. Exactly in tune with the BFS System.
Coach Stone is adamant about long distance running. "Don't do it," she states emphatically. "Do only short sprints." Coach Stone expected the players would do better on their 300-yard shuttle run even though they did only short sprints (20-40) yards). That's what happened.... with every player!
The Vertical Jump was tested on the Vertec. Eleven players followed the program and were tested. The first test period was in December of 1997 and the second test period was March of June of 1998. Every player also improved with her Vertical Jump.
The average age-26, average weight-160, average height 5-7, and average percent bodyfat-20. The first test Vertical Jump average was 16.4 inches with a range of between 11.5 to 18.5 inches. The second test Vertical Jump average was 19.75 inches with a range of between 16.5 and 21.5 inches. The average improvement was 3.35 inches. All the players improved their 40 and 20-yard times along with a step test and push-ups.
Coach Stone could only work with the players up to the final test because of other employment commitments but did recommend they continue with the program. It is my sense they did not. Mandy Eakin, our BFS Women's Clinician, worked with two U.S.A. Softball players last spring on the Power Clean and reported that she had to start from scratch.
Explosive jumping power and speed are essential to all sports except golf. To perform at the highest level and to reach one's maximum potential, women need to do the BFS program or something similar.
BFS has published Women's Standards for over a decade. This knowledge of improving dramatically and quickly has been known for a very long time. Some may think it is kind of tragic that more women athletes did not do this type of program in the past but I say, "get started today!" Call BFS. Our certified coaches want to help. Our program material is easy to read and implement. We specialize in unifying all sports grades 7 through 12 into one strength and conditioning program with smooth transitions between in and off-seasons. We are also the only company to develop special women's equipment to make success a slam dunk deal!
What would be tragic? To sit back and only practice your sport. Women athletes need to sprint, jump and flexibility train. They need to lift free weights and emphasize Parallel Squats, Power Cleans and Snatches. They need to vary workouts and train all-year round. Reach your potential. Call BFS.

__________________

WOMEWS' STANDARDS

VERTICAL JUMP

DAVID OLIVER'S RESEARCH
High School Varsity Average..... 17 inches
College Average......................... 20 inches
Elite Athlete Average................. 23 inches
U.S. Women's Soccer Team....... 24 inches
Top Score on the Team.............. 29 inches


MEG STONE'S USA SOFTBALL TEAM
Team Average............................ 20 inches


BFS HIGH SCHOOL STANDARDS
Standard Build Heavy Build
Good Beginning 14 12 inches
Great for Varsity 18 16 inches
All-State Level 22 20 inches
All-American L 25 22 inches


20-YARD SPRINT

DAVID OLIVER'S RESEARCH
High School Average................. 3.2 seconds
College Average......................... 3.1 seconds
Elite Athlete Average................. 3.0 seconds
U.S. Soccer Team...................... 2.9 seconds
Top Score On Team................... 2.7 seconds


MEG STONE'S USA SOFTBALL TEAM
Team Average............................ 3.12 seconds
Best Time.................................. 2.99 seconds


BFS HIGH SCHOOL STANDARDS
Standard Build Heavy Build
Good Beginning 3.75 3.9 seconds
Great For Varsity 3.45 3.65 seconds
All-State Level 3.1 3.3 seconds
All-American Level 2.8 3.0 seconds


Additional BFS Women's Standards Builds

BFS HIGH SCHOOL WOMEN
Standard Build Heavy Build
Up to 5'2" 120 lbs. or less Over 120 lbs.
5'3" to 5'5" 135 lbs. or less Over 135 lbs.
5'6" to 5'8" 150 lbs. or less Over 150 lbs.
5'9" and up 160 lbs. or less Over 160 lbs.

BFS Dot Drill

BFS HIGH SCHOOL STANDARDS
Standard Build Heavy Build
Good Beginning 70 75 seconds
Great for Varsity 60 65 seconds
All-State Level 50 55 seconds
All-American Level 45 50 seconds


40-yard Sprint

BFS HIGH SCHOOL STANDARDS
Standard Build Heavy Build
Good Beginning 5.75 5.9 seconds
Great for Varsity 5.45 5.6 seconds
All-State Level 5.1 5.3 seconds
All-American Level 4.8 5.0 seconds



NOTE: BFS has complete standards for all Core Lifts, Squat Bench , Clean & Deadlift. If you are interested in these please call us at 1-800-628-9737 and we will be glad to help you get the information you need.
After Winning the Women's World Cup, Mia Hamm exulted,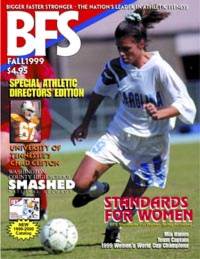 Fall 1999 Cover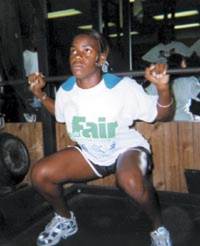 Marhonte Tennial, discovered the benefits of weightlifting while at Miami Southridge High School in Florida. Her track team was as dedicated in the weightroom as they were out on the track field. Thier hard work paid off with a perfect 27-0 season along with a State Championship title.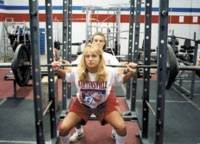 While at Martinsville High School in Indiana, April Traylor's Basketball Team was ranked #2 in the nation. April and her teammates constantly work extremely hard in the weight room to gain that status. She is currently at Florida State.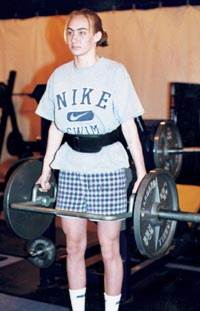 Katie Haeger of Whitnal High in Greenfield, WI. took off almost two full seconds from her 100 Freestyle in swimming after spending just four months in the weightroom.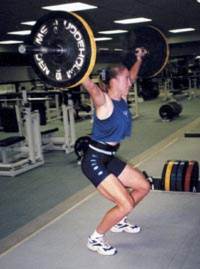 55 Meter Hurdle World Record Holder, Tiffany Lott, of BYU. In '97 she won the Track and Field New's Female Collegiate Athlete of The Year. Tiffany Squats 230, Cleans 205 and Snatches 142 at a body weight of only 140 lbs.